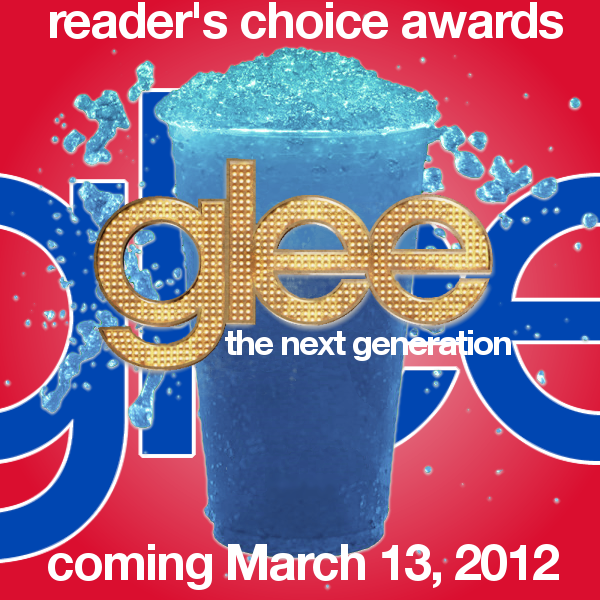 The 1st Annual Glee: TNG Reader's Choice Awards
Edit
The GleeL TNG Reader's Choice Awards is an awards program to honor the best of Glee: The Next Generation, as voted by fans. All official winners will be presented with a Winner's Badge that will remain on that page's profile from now on, as well as a special category. This will help us honor what you, the fans, love about Glee: The Next Generation. The date is set for March 13, 2012 but is subject to change.
Selection Process
Edit
The selections are handled by a panel of three judges who will narrow the categories down to just 4 or 5 nominess. The judging panel has not yet been decided but will consist of Kurt's Boy 86 and two others. They will review, discuss, and debate the possible nominess of each category. The nominess will be decided on by no later than March 1st.
Voting Process
Edit
The categories will then be posted on The Glee Wiki for users to vote on who should win each category. Comments will be disabled so it won't persaude/disaude users to vote for certain nominess. The polls will be open for voting until March 12th, but may be moved up if no votes are registered for 48 hours. Kurt's Boy 86 will take the rest of that day to tabulate the votes and declare a winner. The voting blog will then be deleted.
Awards Ceremony
Edit
I will post a blog asking all users who wish to attend the awards ceremony to come to the chat on this wiki, where I and the other two judges will present the awards LIVE. Videos will be created for each category to announce the nominees and uploaded to YouTube. The one presenting each award will link the video, ask everyone to watch it. After the video has been watched in full by the presenter, they will wait 10 seconds and post AND THE WINNER IS... After they type this in, they will start a new line and type the winner. Users will be given a few moments to cheer and comment on the winner. The next presenter will ask for silence and begin the process again. A time has not been set for the awards presentation. This will be done closer to time
Nomination Categories
Edit
Major Categories
Edit
Best Overall Episode
Best Female Character
Best Male Character
Best Actress
Best Actor
Best Overall Song
Other Categories
Edit
Best Overall Solo
Best Overall Duet
Best Overall Group Number
Best Male Solo
Best Female Solo
Best M/F Duet
Best M/M Duet
Best F/F Duet
Best New Directions Group Number
Best Non New Directions Group Number
Best Supporting Character
Best Storyline
Best New Character
Best Guest Star
Best Villain
Best Kiss
Best Scene Stealer
Best Season 1 Episode
Best Season 2 Epiosde...So Far
Ad blocker interference detected!
Wikia is a free-to-use site that makes money from advertising. We have a modified experience for viewers using ad blockers

Wikia is not accessible if you've made further modifications. Remove the custom ad blocker rule(s) and the page will load as expected.